Antique Bakery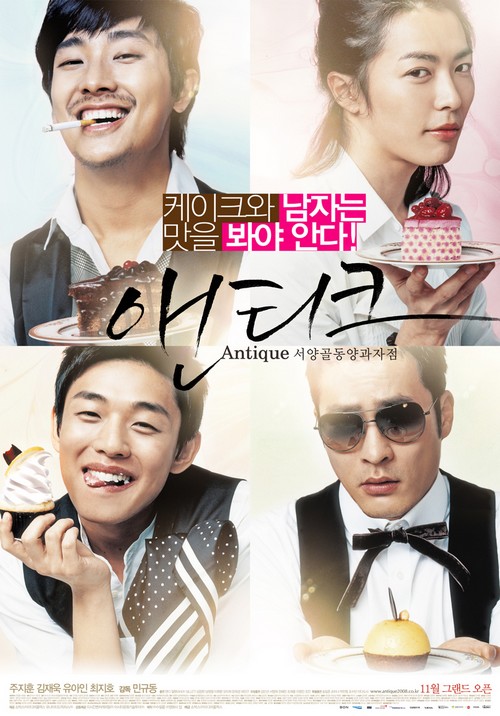 Profile

Movie:
Antique


Revised romanization:
Sayangkoldong Yangkwajajeom Aentikeu


Hangul:
서양골동양과자점 엔티크 / 서양골동양과자점 앤티크


Director:
Kyu-dong Min


Writer:
Kyu-dong Min, Da-yeong Kim, Lee Kyeong-Ui, Fumi Yoshinaga (manga)


Producer:
Jin-su Min, Yu-jin Lee, David Cho

Release Date:
November 13, 2008


Runtime:
109 min.


Studio:
Soo Film


Language:
Korean


Country:
South Korea
Plot
As an heir to the family fortune, Jin-hyuk has money, the looks, the
charm, everything except finding the love of his life. So he sets up a
cake shop where women are sure to come. He hires Sun-woo, a talented
patissier who had a crush on Jin-hyuk back in high school. Along with an
ex-boxing champion Gi-beom and a clueless bodyguard Su-young, the four
unique and handsome young men stir up the quiet neighborhood at their
cake shop, Antique. Although seemingly careless and happy, each of the
four men have unforgettable past that they are afraid to face, but their
secrets slowly begin to unravel.
Notes


Based on the Japanese comic "Seiyo Kotto Yogashiten," written by Fumi Yoshinaga.


Related titles





Antique (Fuji TV / 2001)


Cast
| | | | |
| --- | --- | --- | --- |
| | | | |
| | | | |
| Ju Ji-Hun | Yu Ah-In | Kim Jae-Wook | Choi Ji-Ho |
| Jin-hyeok Kim | Ki-beom Yang | Seon-woo Min | Su-yeong Nam |
Supporting Cast
Jeong Yeo-Rin
Andy Gillet
Kim Chang-Wan - Su-yeon Hui
Lee Whee-Hyang
Oh Mi-Hee - Jin-hyeok's mother
Jo An - Jin-heyok's 1st girlfriend
Lee Young-Jin - Jin-hyeok's 2nd girlfriend
Seo Young-Hee - Jin-hyeok's 3rd girlfriend
Gyu-ri Kim - Jin-hyeok's 4th girlfriend
Jo Hie-Bong - boxer
Jeon Hye-Jin - boxer's girlfriend
Ko Chang-Seok - gay club master
Lee Hwan
Park Hyeok-Kwon
Kwon Tae-Won - Capt. Oh
Park Jun-Myeon
Tak Teu-In
Seo Min-Yi
Ji Il-Joo - gay man
Lee Eung-Jae - man from couple in taxi
Trailer