Lotte DFS Advertising Campaign
Brief news summary
In comparison to other brands and businesses in Korea who engage at most 2 or 3 models for their advertisements, Lotte DFS has as many as 16 celebrities.
Choe Ji-u and Song Seung Heon represent the 1st generation television drama Hallyu stars, while 2nd generation Hallyu stars such as 2PM, Kim Hyun Joon and Jang Keun Suk are brought in to expand their promotional efforts.
According to Lotte DFS Marketing group leader Mr. Kim, the large-scale engagement of Hallyu stars is not merely for the purpose of a promotional event; this is a creation and promotion of a new culture that focuses on the combination of entertainment and tourism.
The activities of these singers and actors have received favourable reviews and gained them much popularity not only in Asia, but also in the world as they step on the path towards global stardom. Other promotional events involving these Hallyu star brand ambassadors are in the planning.
Shared by: Suk@Fly via Suk Baidu Bar
Samsung Galaxy Player Autograph Session Set
Jang Keun Suk will have an autograph session for Samsung Galaxy Player:
Date: Tuesday 12 April 2011
Time: 18.00 to 20.00 hours (Korean time)
Venue: d'light shop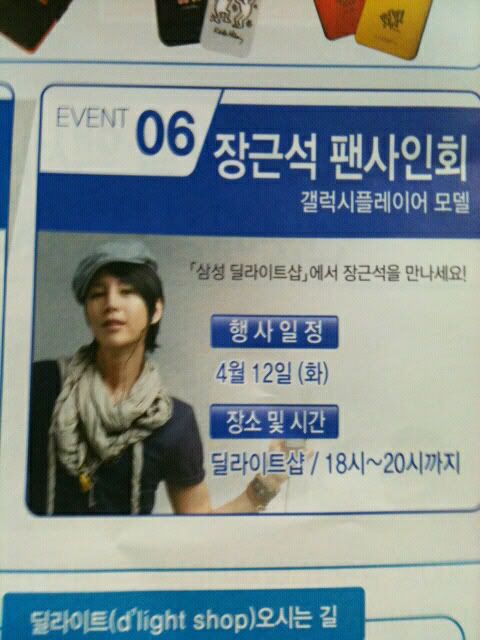 source: jksforever.com
photocredits: DC inside
Lotte DFS Advertisement Song
Jang Keun Suk, together with all the endorsers of Lotte DFS, will sing its advertisement song "So I'm loving you" (소 아임 러빙 유)" together.
Another chance to hear Jang Keun Suk's captivating voice!
Credits: Suk Baidu Bar+Jangkeunsukforever
Jang Keun Suk Currently 3rd Place at the 47th Paeksang Awards
Jang Keun Suk is nominated for the "Popular Actor for TV" Category for his role as Mo Gyul in Mary Stayed Out All Night at the 47th Paeksang Awards. He is currently running third at the ranks, way behind Mickey Park of Sungkyunkwan Scandal (first at 53.9%) and Kim Hyun Joong of Mischievous Kiss, who is currently sitting at the second spot at 30.5%.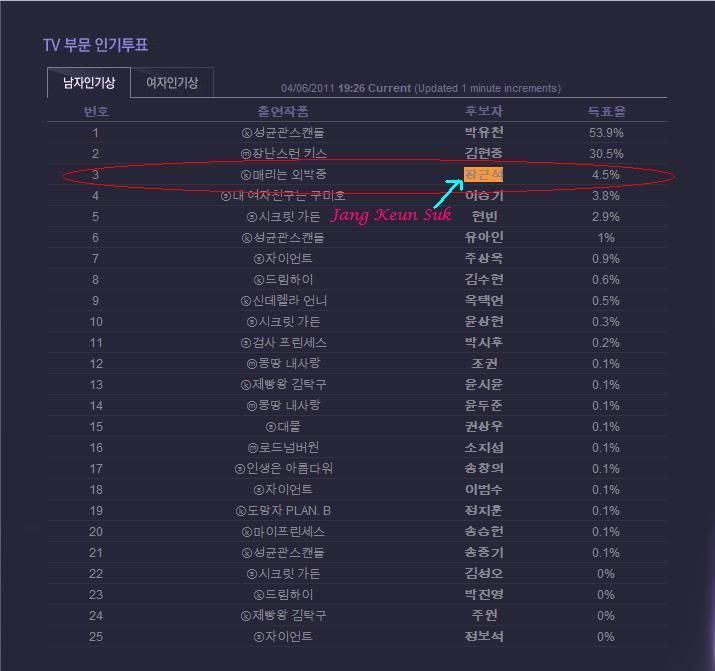 Jang Keun Suk has 4.5% votes right now so the Eels who are eligible to vote, let's keep 'em coming for our dear Prince J! We need to come together to make him win! You can vote via SMS which will cost a minimal amount. Voting is open until May 16, 2011 so we still have enough time to put him on the top spot!
Jang Keun Suk hwaiting! Aja!
source: Paeksang Awards website
Jang Keun Suk will start to invade China at the 15th GCMA
[imghttp://i668.photobucket.com/albums/vv42/DaNaiTa97/196002_160777853981179_157902984268666_370257_1540328_n.jpg[/img]
Jang Keun Suk will attend the 15th Global Chinese Music (Asian Influence) Awards which will be held on Chengdu, China on April 15, 2011. This event is organized by Channel V.
This is a "kick-off" of Jang Keun Suk's plan of penetrating the Chinese Entertainment industry and we must say that Keun Suk-ssi and his management, Tree-J, are doing a wonderful job in making him soar high not just in the Korean market, but in the whole of Asia as well.
Jang Keun Suk is nominated for the "The most popular Asian Influential Korean Artist", under the "Asian & Europe Stars" category. He is battling head to head with Lee Min Ho, Kim Hyun Joong, and Hyun Bin. Jang Keun Suk may also perform at the said event.
Jang Keun Suk is currently sitting at the number one spot. Let's help him keep that position by voting for him. To cast your votes for Jang Keun Suk, please see instructions here.
Below is the notice from GCMA and HS Media this morning:
From GCMA @ Sina:
GCMA has always put efforts into promoting music, which also includes the whole of Asia and the world as the stage. Last year, we invited Kim Tae-hee and Lee Byung Hun, who shall we invite this time? Look forward to it! Flower-pretty boy is going to dazzle us with his appearance!!! First, we present a photograph of him that has charmed many.
Notice 1 from HS Media @ Sina:
On 16 April 2011, Jang Keun Suk will be attending a press conference in Shanghai, firstly to commemorate his exclusive contract-signing to agent company, HS Media, secondly to reveal news of his album plans for China and Southeast Asia and thirdly, to have an opening launch of his Asia Tour. It will be formally announced at the press conference that HS Media will be JKS' exclusive agent company solely in charge of his career in countries such as China, Hong Kong and Taiwan.
Notice 2 from HS Media @ Sina:

HS Media's exclusive artiste, Jang Keun Suk's schedule in China:
15 April: JKS will arrive in Chengdu for the 15th Global Chinese Music (Asian Influence) Awards
16 April: JKS will be in Shanghai for HS Media's press conference
source/credit: jksforever.com